Fire & Safety
The Montgomery County Sheriff's Office mans a substation at the Westwood Village Shopping Center within the District. WMPID played a critical role in the establishment of the substation and helps to fund the cost of Sheriff's Deputies and their vehicles.
MCSO in the District 
In 2020, District Four deputies ran a total of 13,412 calls for service, completed 404 reports, conducted 1643 traffic contacts, made 107 arrests and traveled over 36,843 miles in their patrol vehicles.  District four adopts a "can do" attitude, working with the community, homeowners, and businesses to solve law enforcement problems within the county. The District Four staff is committed to using the resources available, not only to respond to calls for service, but to take a pro-active stance against criminal activity in South Montgomery County; preventing crimes before they occur, or taking action against law violators as crimes are being committed.
District Four has taken a zero tolerance approach to violent crime that has started to spread into Montgomery County from neighboring Harris County.  These crimes affect the quality of life for our citizens and District Four is committed to dedicating any resources necessary for the prevention, reduction, and prosecution of these crimes.
For up-to-date information from the Montgomery County Sheriff's Office, visit their Facebook page and click here to view our feature on Increased Security for Residents and Businesses.
Fire Safety 
The District has funded the placement of additional fire hydrants within the area. Also, the District has purchased a ladder truck for use by the fire department. This has improved the local ISO fire ratings, resulting in a direct savings to property owners. Read more about the District's investment in fire safety here. 
---
Mounted Patrol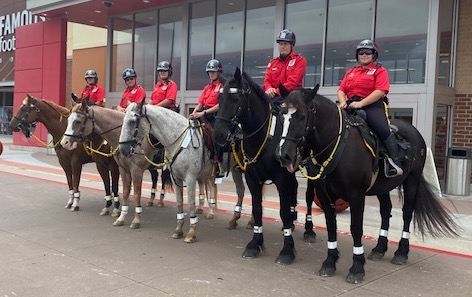 Westwood Magnolia Parkway Improvement District (WMPID) has a new public safety program: Mounted Patrol. Alpha & Omega Mounted Patrol will be another layer of security for the Westwood Village Shopping Center. These mounted troopers work hand in hand with local law enforcement to provide extra eyes and ears to prevent criminal activity in the community's commercial and residential areas. Read more here.