The Mounted Patrol is Saddled Up to Make WMPID Safer
Westwood Magnolia Parkway Improvement District (WMPID) has a new public safety program starting in October: Mounted Patrol. Starting October 1st, Alpha & Omega Mounted Patrol will be another layer of security for the Westwood Village Shopping Center. These mounted troopers work hand in hand with local law enforcement to provide extra eyes and ears to prevent criminal activity in the community's commercial and residential areas.
"The Mounted Patrol will complement the great support already being provided by the four Sheriff Deputies that the District funds," said Kelly Hamann, WMPID Deputy Director. "Having multiple horses and riders patrolling the site makes for a much safer environment for commerce in and around The Westwood Village Shopping Center. Deputies could be called away with emergency calls, while the Mounted Patrol remains in the shopping area."
For 26 years, Alpha & Omega Mounted Patrol has already served nearby Woodlands Township providing a highly visible and people-friendly component to their security system. The mounted patrol officers are in constant radio contact with law enforcement, permitting everyone to act quickly and decisively to prevent or diminish criminal acts and to direct traffic and emergency vehicles. It is the close collaboration with the Montgomery County Sheriff's Office, the Constable's Office, and the local city police departments with jurisdiction over the area that makes the Mounted Patrol part of Woodlands Township comprehensive safety plan.
With Alpha & Omega Mounted Patrol, the Westwood Village Shopping Center will not only have added peace of mind, it will have improved customer relations. Frank Keller, CEO of Alpha & Omega Mounted Patrol, said his troopers are a symbol of safety and comfort for customers.
"It's the intangibles that make the Mounted Patrol a unique aspect of a systems approach to safety that also includes cameras, law enforcement, and other security officers," said Keller.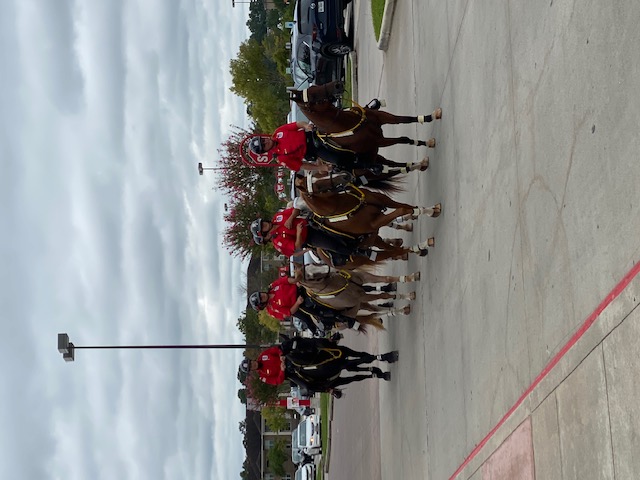 Keller said these intangibles include visibility, mobility, and approachability. The Mounted Patrol are highly visible deterrents to crime. Elevated on horseback, troopers have a view over the cars and foot traffic, and just as advantageously, people on the ground can see them above the parked vehicles. The Mounted Patrol has a unique mobility with the capability to move in between cars, and cross into more rugged terrain like the woods and weeds. One of the most special things about the Mounted Patrol is their approachability. People of all ages are drawn to the horses.
"The troopers are expecting to be approached," said Keller. "They have stories to tell. Interacting with the public is part of their job. They have coloring books and/or trading cards to give to the kids. And in this time of COVID-19, they are always socially distanced, seated six to eight feet in the air on the back of a horse."
Alpha & Omega Mounted Patrol is a trusted name in security, celebrating 30 years of public safety. Not only is CEO and founder, Frank Keller, the chief training officer and a certified police instructor, but he is the pioneer of public safety mounted patrols. Keller and his late father, a 40-year veteran of law enforcement, designed Alpha & Omega as the first privately owned mounted patrol in the United States to provide security for shopping malls. Keller created and innovated the training, uniforms, shoeing, and saddles for his patrols.
Keller's Mounted Patrol is already having an impact at The Westwood Village Shopping Center. After the patrol's public introduction event on September 28th, one resident was so impressed she immediately emailed WMPID:
"I just wanted to express my appreciation and gratitude at seeing the Mounted Patrol unit at the West Woodlands Target Shopping Center this morning off 2978. My kids enjoy seeing the horses all over The Woodlands, but as a mom of 3 who likes to run out, it makes me feel so much safer having this presence! There have been a few times where as a woman, I have been shopping in this area where I have felt uncomfortable in the parking lot and have known other moms who have experienced the unpleasant feeling of being followed around the Target Store. I think having the Mounted Patrol around permanently would help keep our area safe and hopefully deter some of the people who like to target women and children. Thank you for caring for our community and continuing to keep it a safe place to live!"
To explore the other ways WMPID is focused on safety and how you or your business would benefit from being located in this community, visit their website here.