FM 1488 Study Looks to Improve Safety, Reduce Crashes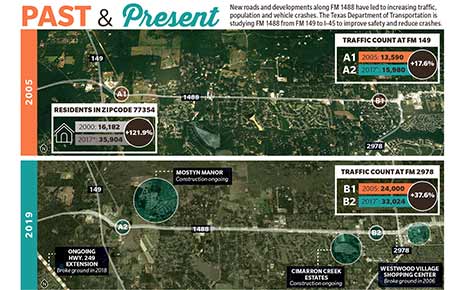 The 14-mile stretch of FM 1488 between FM 149 and I-45 saw one crash per day on average from 2015-17, according to information presented at a May 23 Texas Department of Transportation public meeting.
Along the corridor, there were a total of seven fatal motor vehicle crashes during that time with one fatal crash occurring already this year, according to TxDOT crash data.
Jay Tombaugh, a resident of Mostyn Manor east of Spur 149 on FM 1488, said he has seen the amount of traffic, speed of drivers and pace of development change considerably in the six years he and his wife, Elaine, have lived in Magnolia. As there is no signalized intersection for Mostyn Manor residents from FM 1488, Jay Tombaugh said he is concerned about the future of FM 1488.
More Topics

For several years, the intersection of FM 1488 and FM 2978 in Magnolia was little more than vacant land with roads leading to Conroe and The Woodlands. In the past decade, several businesses and housing developments, such as the Westwood Village Shopping Center, Pinewood Plaza and The Estates Woodland, have quickl...