With New Police Vehicle, Montgomery County Sheriff's Department is Prepared to Protect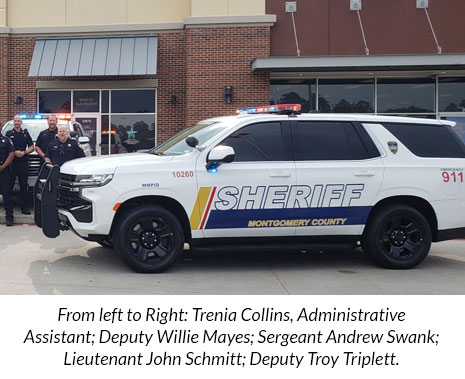 With the support of WMPID, the Montgomery County Sheriff's Office District Four - West Patrol Substation WMPID Office has introduced the new Tahoe Police Pursuit Vehicle (PPV). The new vehicle comes with a variety of features that will ensure community safety, and help deputies provide the best public service possible.
The new Tahoe PPV will be located at the District Four WMPID substation. The vehicle is engineered to give deputies an advantage in a variety of challenging situations, but is also upfitted with several options for daily patrol use. Fully equipped with several essential sirens, the vehicle is armed with the wail, yelp, and piercer (phaser) sirens; in addition, the vehicle includes a deep tone rumbler system, which amplifies the sound through a pair of high output woofers. By allowing deputies to create different signals for different situations, these sirens are key to communication between deputies and the public.
Additionally, the vehicle contains a mounted radar that points both forward and to the rear, a push bumper, and an LED light bar. With these features, deputies can enjoy increased visibility, as well as hands-free speed monitoring. In order to safeguard deputies and their patrol gear, the vehicle includes a partition cage and a secured lock box storage compartment. Lastly, deputies can find up-to-date technology within the vehicle. Complete with a Motorola Docking Station, the vehicle can accommodate a Mobile Data Terminal (MDT) as well as a coban recording device with body cam equipment. By maintaining and acquiring equipment like the robust Tahoe PPV, deputies are properly equipped to handle crime and community crises.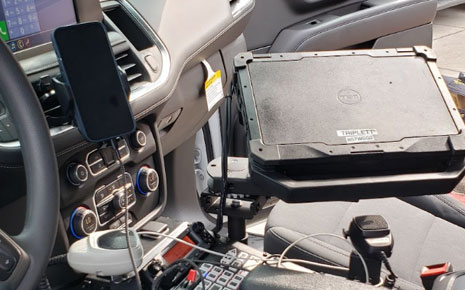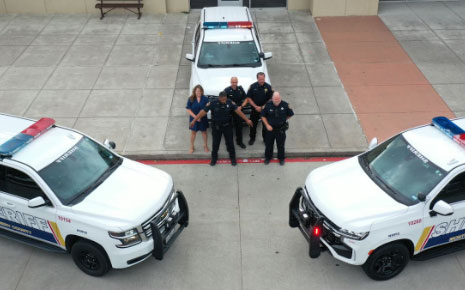 WMPID and The Montgomery County Sheriff's Department are Proactive about Public Safety
The purchase of the new police vehicle is just one of many measures WMPID and the Montgomery County Sheriff's Department have taken to ensure public safety. When the District Four substation was established, WMPID played a critical role by helping fund the cost of Sheriff's Deputies and their vehicles. Through the continued partnership of WMPID and the District Four substation, District Four is able to work with citizens, homeowners, and businesses to proactively address law enforcement problems within the county.
By taking a zero tolerance approach to violent crime, District Four is committed to dedicating any resources necessary to reduce crime in the community. With a new vehicle equipped with a partition, body cams, and a variety of sirens, deputies can stand in their commitment to community safety. In other words, the new vehicle will support, develop and refine District Four's current procedures for public safety.
WMPID: Providing the Tools for Public Safety
Kelly Hamann, Deputy Director at WMPID, states that partnering with local deputies is a key initiative at WMPID. "Providing support and funding to the sheriff's department is very important to WMPID. We realize that safety is the central pillar of a happy, thriving community, and that our first responsibility is to protect the health and well-being of our citizens."
With the continued support of WMPID, the Montgomery County Sheriff's Department can safeguard the welfare of visitors and residents alike. To contact the Sheriff's department for non-emergency assistance, see the contact information below:
Montgomery County Sheriff's Office
District Four - West Patrol Substation WMPID
Office: 936-522-2487
Main Number: 936-522-2488